STEAK. There's little in life more satisfying. Wet aged? Dry aged? There's good arguments for both. But it must be hung well (probably for more than four weeks) in a chiller a few degrees above freezing point.
It arrived on a plank of wood, flanked by the rib bones of a beast
The beast also needs great grass. Like great wines, terroir is everything. Fat, by the way, is great for flavour, quality and - as most things are in moderation - actually good for you. Blimey. Don't let gristle concern you either, cut around it.
It needs to be cooked quickly. On a Josper, or the like, at a very high temperature. Sealed and crispy on the outside and medium rare (at most) on the inside and down. If you like your meat well done, you may as well buy the cheapest you can get.
It also needs rest.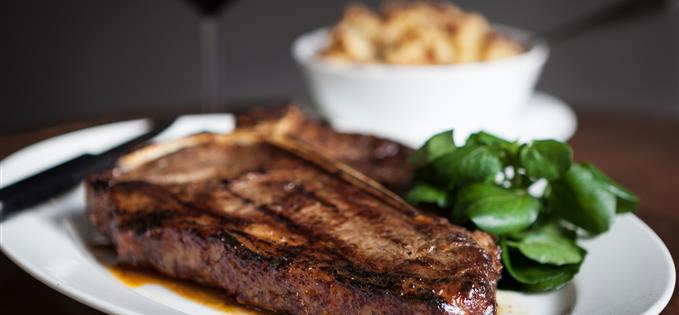 It's pretty hard to top a freshly made Coleman's mustard from powder (yes, from powder), but a well-made béarnaise with aniseed notes goes well. Cream your spinach and triple cook your chips and you're on to a winner. Tomatoes, if served, should be cooked through (it's all about the juices), and if your onion rings come from the freezer you can sling your hook.
Gordo likes his rump dressed in Agent Provocateur, not Primark.
THE TOP 10 STEAKS IN MANCHESTER:
HAWKSMOOR
There's a cute paragraph on the Hawksmoor website: 'Before trying to open Britain's best steak restaurant we travelled the world in search of the perfect steak, from Kobe in Japan to Argentina's Pampas by way of Italy, Australia and Texas. And our verdict? That the best steaks come from carefully reared native cattle breeds right here in Britain.' From Yorkshire, in fact, which means in Manchester the White Rose is feeding red meat to the Red Rose. The meat is at least 28-day 'dry-aged', a good thing. They are not vacuum-packed and 'wet-aged', a process which can retains weight but leaches minerals and flavour. Hawksmoor's T-Bone (£8 per 100gm) is a delight; fillet one side, sirloin the other. The joy comes from the bone which seeps flavour into the meat. Cooked perfectly medium rare 800g so filled two of us that we had to doggy bag the rest. The sauces (£1 each) are things of marvel. The best two in terms of distinctiveness are the anchovy and the stilton... we suggest you order both.
184-186 Deansgate, City Centre, M3 3WB. 0161 836 6980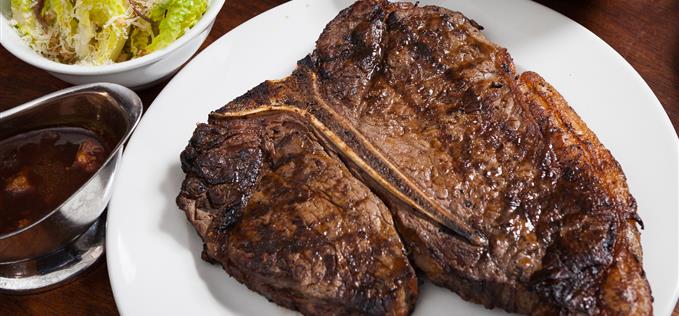 63 DEGREES
This is right up there with the best. Quality 28-day aged fillet (£32) that breaks on the blade like the memory of a perfect day: expect superior texture and full-on, strong beef-flesh together with a soft, yielding character that makes a food critic write like EL James – with strained metaphors and breathlessness. There's more as well. Steaks usually need friends, a sauce to enhance, a side to entrance. Here you get the best on this whole 'best of' list, a perfectly timed risotto, faultless home-made foie gras and a cream of foie gras sauce. Bloody bliss.
High Street, City Centre, M4 1PN. 0161 832 5438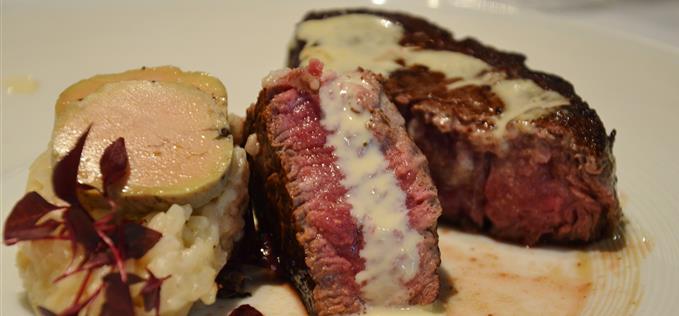 MANCHESTER HOUSE
Aiden Byrne, the boss chef at Manchester House, is a perfectionist. And, by all accounts, a bad tempered one; which is a good thing because all that testosterone, apart from sending him (like Gordo) prematurely bald, manifests itself in some quite stunning food. A recent meal here scored so highly it could have been a top two meal in the North West. But the purpose was to try the Belted Galloway beef (£64 for two people) at the core of the offering at Manchester House; it being a facsimile of a winning dish he did for the BBC's Great British Menu. It arrived on a plank of wood, flanked by the rib bones of a beast (you have to look at the picture); forget the presentation for a minute, or the fact that it is delivered with a pal of slow, beautifully braised ox cheek and 'edible clay' potato stones (very clever). The fillet steak itself is absolutely delicious - pink, silky, meaty and packed with a flavour that only comes from well managed beef. Highly recommended.
Tower 12, 18-22 Bridge Street, Spinningfields, M3 3BZ. 0161 835 2557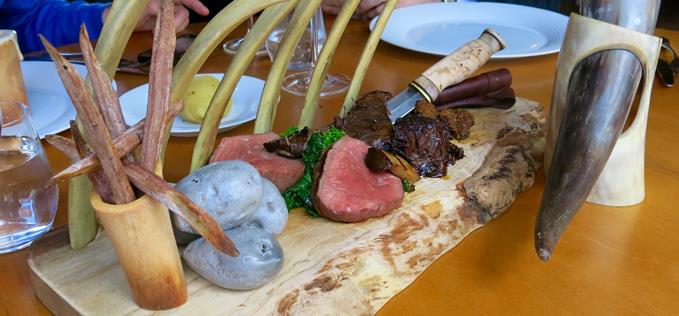 GAUCHO
Gaucho came close to being knocked from the top ten for two reasons; the sirloin had been trimmed of most of its fat covering, whilst the service was, on the night, pretty poor. The sirloin, all 500g (£37) is big enough for two people and a not-so-little beauty. Crispy, well seasoned exterior with a great pink, bloody interior; the flavour of the Argentinian pampas grasses shining through. Bags of personality with a decent amount of chew. But more fat for us fatties please. Gaucho has some great sides too. This doesn't come cheap, mind you, and beware of the prices for its Argentinian wines; though an excellent list they're carrying a crippling mark-up. Scan the room please service. It took me ten minutes of windmilling to score a glass of wine. Not good that. Still, a mighty fine steak.
2a St Mary's Street, City Centre, M3 2LB. 0161 833 4333.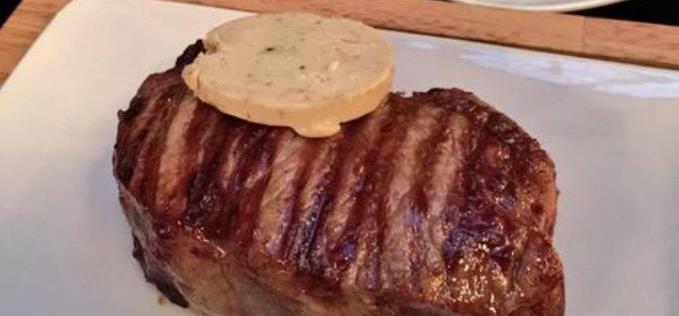 SAN CARLO
You get a species of Stilton sauce here to pour over the steak, but this one has the whiff of difference - literally. The Italian blue cheese sauce - from dolcelatte - delivers a pungent but smoother, sweeter, flavour booster for a classic fillet than fighting Stilton. Not that it's absolutely necessary. This generous fillet (from £14 to £28) will fill you up all on its own and comes with a decent cut and thrust of flavour and texture. Asking for medium rare it arrived just so. Match it with Italian peas and ham alongside a Barbera.
42 King Street West, City Centre, M3 2WY. 0161 834 6226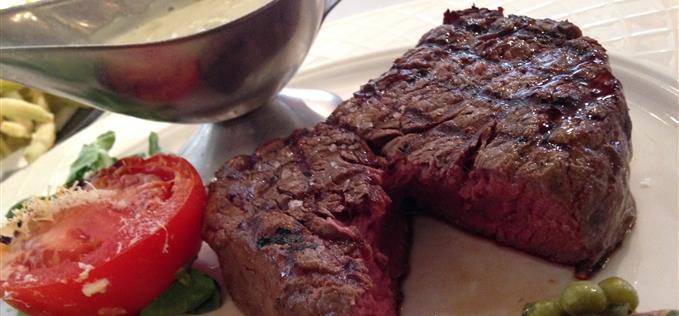 CAU
The new kid on the butcher's block is CAU, an acronym for Carne Argentina Unica, and they mostly serve Argentinian beef, see what they did there? Being the younger cousin of the Gaucho restaurant chain, gives them the buying power to sell their steaks at a slightly lower cost. We ordered a Lomito (£29.50) which is the tenderloin, combining the flavour of rump with the tenderness of a fillet. It's a cut that's best served on the rarer side of medium. CAU usually serve it with blue cheese sauce on the side, but were happy to swap it out for chipotle butter on request. Seasoning issues aside, this steak would make this list's Top 5. During a second visit we managed to slowly masticate through a whole Tira De Ancho, which at £33.50 for 500g is a whacking great load of rib-eye and the biggest steak on the menu. Marinated in chimichurri, a piquant Argentinian green sauce, and grilled slowly on the Inka Grill, this spiral cut of beef was a bit chewy in places but packed with flavour. By the time we'd finished our teeth had been given the equivalent of an Insanity workout.
22-24 Water Lane, Wilmslow, SK9 5AA. 01625 535 195.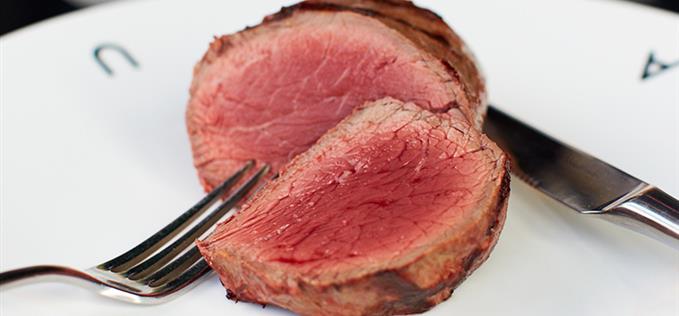 SMOAK - MALMAISON
There's a Josper grill here, or in other words, a barbecue enclosed in an oven that reaches 400 degrees and delivers stonking steak. The wing rib, about 1.4 kilos in weight, is the ace in the pack. It costs £70 and cooked medium rare, it actually winked at us - honest- as it arrived at the table. Astonishingly deep flavours, bordering on gamey, but fresh, almost grouse-like. Beautifully creamy, crispy fat and heavily seasoning resulting in a crust that added texture a Chinese gourmand would have delighted in. Fine bone marrow as well.
1 Gore St, Piccadilly, M1 3AQ. 0161 278 1000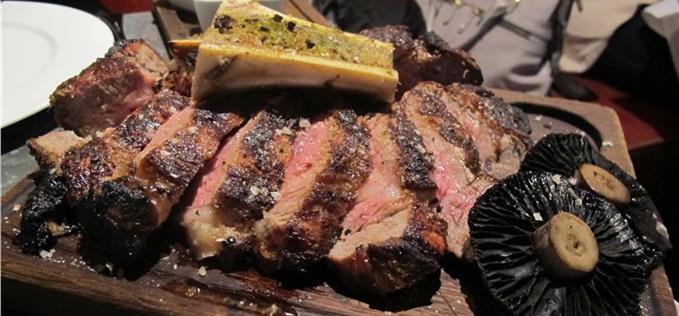 SCOTTISH STEAK CLUB - MACDONALD HOTEL
The Scottish Steak Club at the Macdonald Manchester Hotel from 5pm onwards provides another route to meat heaven, again via a Josper grill. The restaurant in the London Road Hotel, between Piccadilly Station and the Mancunian Way, has been renovated with an open-plan kitchen that boasts 'Scottish and Argentine steaks' which finish ageing in the hotel for as long as 35 days. A good bet is the 80oz fillet steak cut from centre of the steak at £28 which comes with traditional garnish, hand-cut chips or skinny fries, grilled tomato, flat mushroom, watercress or baked potato with chive and sour cream.
London Road, Piccadilly, M1 2PG. 0161 272 3200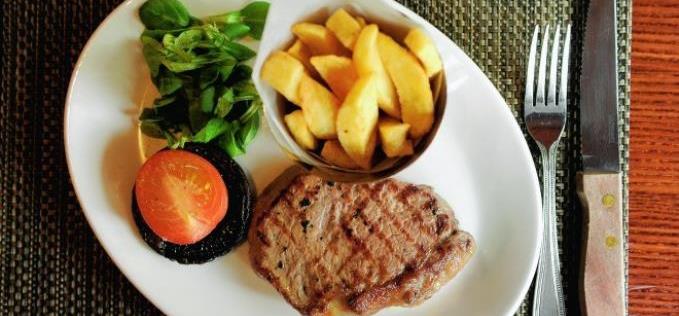 SOLITA
This Northern Quarter burger, brekkie, deep-fried gaff is probably not the first place you'd think of for steak. Still, Solita takes an admirable crack with a menu offering 10z hanger steak (£13.90), Black Angus Ribeye (£17.90), 12oz sirloin (£19.90) and the daddy; a 40 day dry-aged bone-in prime rib from the Cheshire plain (£4.80 per 100g). Our 525g medium rare whopper came rightly deep, brown and crusty with salt from the INKA grill; the flesh juicy and pink from top to bottom, left to right. The prolonged aging process here gives the meat extra kick, a well-managed, controlled rot which adds sacks of flavour. The blue cheese sauce needed some work, mind.
37 Turner Street, Northern Quarter, M4 1DN. 0161 839 2200.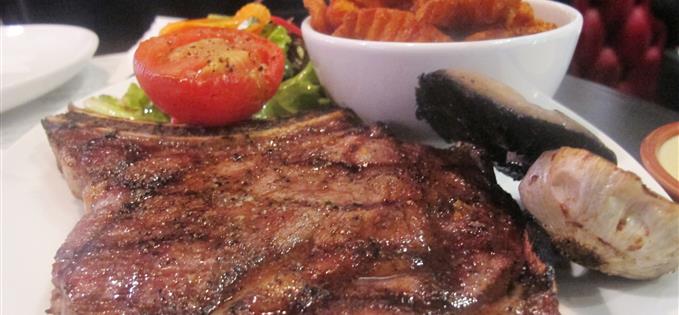 JAMES MARTIN
Above and away from all the Manchester 235 casino gamblers, James Martin Restaurant delivers a safe bet menu of good quality steaks. We ordered the 8oz Cumbrian Lakeland Fells sirloin (£28), which came medium cooked, tender and juicy, and by enthusiastic recommendation paired with bone marrow and black truffle sauce (£1.50) which surprisingly complemented rather than masked the meat. The 28 day-aged Hereford T-Bone (£30), medium rare, tore off the bone with but a wink. T-bone is always a compromise, part sirloin, part fillet, each requiring different cooking rates. Still, Martin's T-Bone faired well with properly thick chips, onion rings and greens. Deserving of a top 10 spot.
Manchester235, Great Northern, 2 Watson Street, M3 4LP. 0161 8282 0345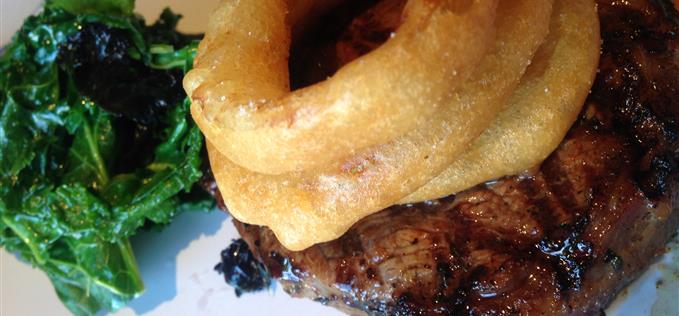 For more Manchester Confidential 'Best Of' lists see here.