IN the days before phone jock Pete Price had become defined by the C-word on an LFC supporters' banner, a rather gentler tone ruled Radio City's late night airwaves.
It was contained in a segment called The Peaceful Hour, a popular feature among schoolgirls, which involved a drip feed of slowies purveyed by mild, whispering DJs with names like Johnny Jason. Foaming at the mouth was reserved for horses, fools and rabid dogs and had no place in the lull of bedtime.
The view was wasted on my dining companion who warmed, but did not thaw; and passed the remainder of the night either swiping at Tinder or sniping at Ginger
The Peaceful Hour was an essential part of a mating game where one would dedicate a tune to Gary, Carl or Darren, last glimpsed at the back of the school bus: many of these records involved Barbra Streisand and Kris Kristofferson, Barbra Streisand and Andy Gibb. Barbra Streisand and Lionel Ritchie.
The 2016 mating game overwhelmingly favours Tinder over the tinny tranny but the melodies linger on and, like the terrifying hand that reaches from the grave at the end of Carrie, they are born again at Waterloo's Ginger Bistro.
I am listening to Billy Preston and Syreeta with our food critic AA Grill, after begging him to accompany me on my second trip to the cosy little Francophile number at the top of South Road.
I have a problem. I am not sure whether it's any good or not.
I know.
Last time I came, I was with one of my many friends whose lives are currently in the hands of divorce lawyers; one whose headlong engagement with the moshpit of modern courtship would make Game Of Thrones viewers blush.
Billy Preston and Syreeta have no place in this re-awakening.
It had been a cold Saturday night. We were a walk-in and were seated at the only table left in this charming, 24-cover room: alas by the door.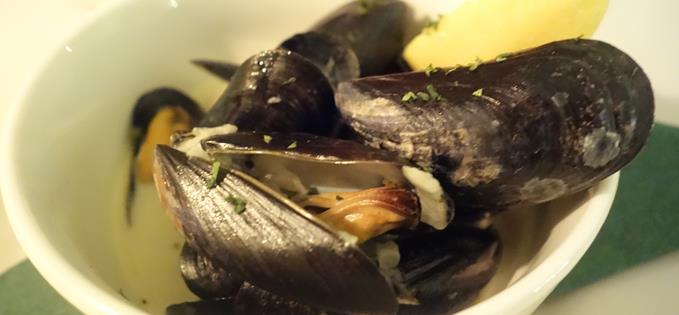 Despite the warm, very warm welcome from the eponymous "Gingers", Craig McParlan. who runs front of house, with brother Russ on kitchen tools, my friend refused to remove their thick woollen winter coat. Rather than plunge the evening into a Victoria Wood sketch, we swapped seats, which meant I could not survey the crowded restaurant.
The view was wasted on my dining companion who warmed, but did not thaw; and passed the remainder of the night either swiping at Tinder or sniping at Ginger.
"It's all so dated," they complained, no wordplay intended. And complained.
"Cuisees de grenuille" (juicy frogs legs, £7.80) brought grimaces, "Soupe a l'ognion Francais" (er, onion soup) a sigh.
"Boeuf Wellington" (£18.50) fillet came in three dainty pastry puffs but were condemned as "rather dry" – although the camera tells a pinker, healthier story (main pic). Before I had chance to find out for myself, it had all been devoured. C'est la vie.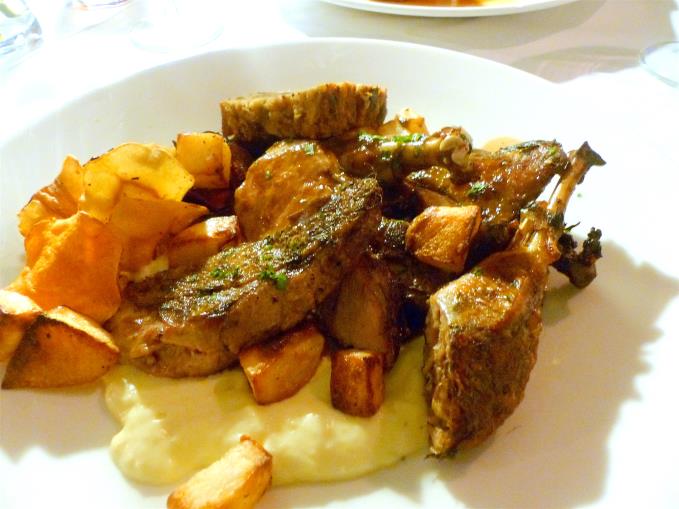 Partridge
From the specials board came an entire butchered partridge (£15.95), spread inelegantly with a lot of sauteed off spuds across a vast, cumulous cloud of parsnip puree, like roadkill.
Its provenance (it had, in fact, come from the sack of a Hightown gamekeeper) was attested to by the unexpected dose of shot in the mouth. Or, as my companion might have it: "des balles dans la bouche".
No self-respecting French chef would have owned up to the dish of hard boiled root veg which brought back memories of dining out days a decade ago, while the baby cheeses allowed us to resurrect a Nativity joke from a similar era.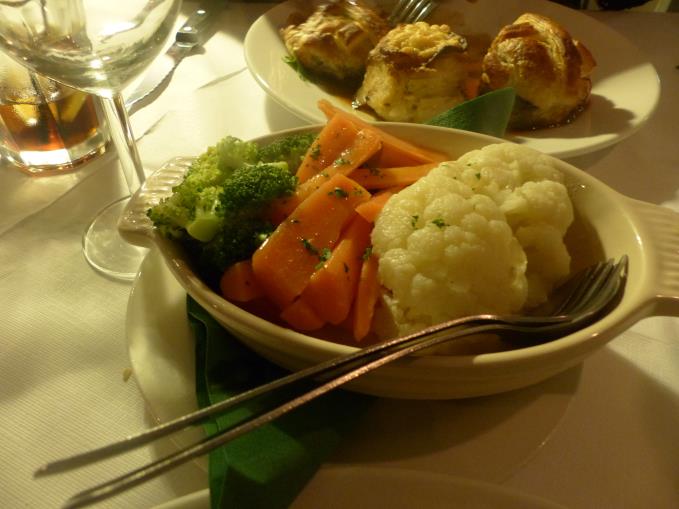 Boiled veg
Dated. Yes, perhaps. But is the 2016 world of pulled pork slop and camping tins such a gigantic evolutionary step forward from the 1970s Cointreau ad couple getting it on to "Escargots au beurre a l'ail et ause herbes fraiches" (snails to you, pal)?
Grill is made to sit with his back to the room, while I survey a calmer, Wednesday nocturne.
Game is no longer on, but there's plenty else. Like "Poitrine de Pork" (£12.95) an indulgent hefty square of fatty and sweet pork belly in a thyme and cider reduction, with a pebbledash of black pudding and successful crunchy crackling. However, the too solid structure of gratin dauphinois could easily have stood another 20 minutes in a moderate oven to melt its rigid heart.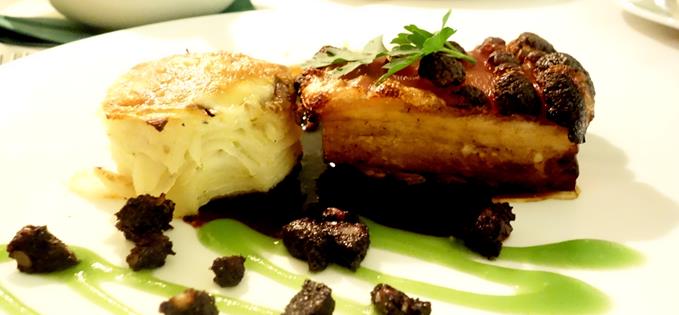 Pork belly
Then there is Croupe d'Agneau (£14.90), sweet, rosy slices of lamb rump with a tarragon and cream sauce - its excellent text book stock base rising up to lend it a shiny caramel hue. And then deflated by an accompanying potato dish which once again is less yielding to the fork.
There is nothing at all wrong with the white wine/cream broth that a clutch of bright mussels (£6) are served in (A tenner will buy you moules frites as a main course, which, as anyone who has ever cleaned anything over 10 mussels will tell you, is a good deal).
A pretty perfect pair of desserts, white chocolate and raspberry cheesecake (£4.90) and a pretty fruit pavlova (£4.50), lend sweet music to the evening's finale.
So what do we know? Ginger Bistro is very good with meat, stocks and desserts. Vegetables appear to be a complete oversight, presentation is hit and miss but that can all be fixed.
How? Because it's all very well intended; much of it reminiscent of dinner chez your newlywed friends. Before the house and the plates were smashed up in the decree nisi.
Oh and there is little in the way of a wine list, more a grope around the kitchen rack.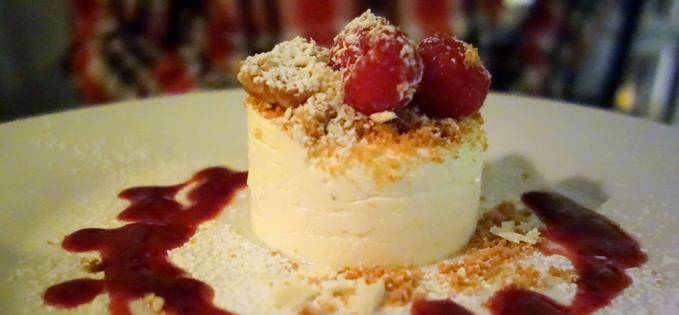 Cheesecake
Let's not forget this Ginger is a neighbourhood corner bistro, a walk on in, and not a taxi trip to some high octane venue with industrial ducting, ludicrous business rates and a millennial ironic concept that plays with the name: "Ginger Bush Tucker" anyone?
We don't normally afford second chances, but sometimes unwise circumstance means you have to.
Despite the flaws, like the friend's kitchen and cheesy late night tunes, there is something rather peaceful and reassuring about the Ginger Bistro. And maybe I just like going.
Pass the Hirondelle and the Barry White. Life isn't so bad after all.
All scored Confidential reviews are paid for by the company, never the restaurant or a PR outfit. Critics dine unannounced and their opinions are completely independent of any commercial relationships.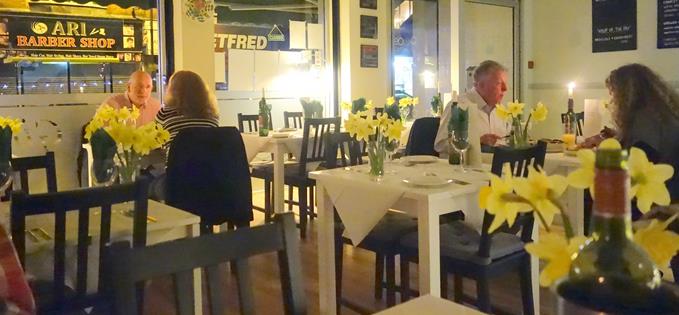 Note: Ginger Bistro has now ceased trading.
Ginger Bistro, 135 South Road, Waterloo, Liverpool, L22 0LT Telephone: 0151 928 5837. Open Weds-Sunday. Website
Score: 13.5/20
Food 6/10
(Frogs legs 5, Partridge 5, Mussels 7, Pork 8, Lamb, 8, Potatoes 4, Other veg 3, Desserts 8),
Ambience: 3.5/5
Service: 4/5
Venues are rated against the best examples of their kind: gastropubs against the best gastropubs, takeaways against the best takeaways, etc. On this basis, the scores represent...
1-5: Straight into the dog's bowl
6-9: Netflix and chill
10-11: In an emergency
12-13: If you happen to be passing
14-15: Worth a trip out
16-17: Very good to exceptional
18-20: As good as it gets
Powered by Wakelet