THE buttercup yellow, swirly hippie look is gone; starched white table linen, sunny Provencal petals and winsome wall doodles are out.
Dark wood, exposed brick walls, industrial bulbs and cool, petrel blue cotton finishes are in. Very, very in.
And as for that huge picture of Marco Pierre White dominating the restaurant - glazed expression, gazing down - it is here in the PR shot below, but in reality it has vanished.
New icons of a younger, more carefree looking Marco have gone up on the walls, betraying the grown up look
It is an image which, for five years, defined Liverpool's Marco Pierre Steakhouse Bar & Grill at Hotel Indigo. Indeed, our critic AA Grill once wondered if the so called enfant terrible of British cookery was looking down his nose at us mere mortals. He even wondered if "an underling was – shall we say – tasting Marco's sauce".
Who knows? But with the restaurant marketplace in Liverpool's traditional business district exploding in the last 12 months, MPW's Chapel Street outpost on Earth has undergone a radical revamp.
It's partly a bid to keep up with the nearby newbies: the Vincents, The Laylas, the NYLs and the Alchemists. And those soon to come: Neighbourhood, Australasia and Cunard House - all relentlessly chasing that fistful of expense account dollars within a few hundred yards.
It's also partly to remind the changing world that Marco Pierre White is still there. Even if the first and youngest British chef to win three Michelin stars hardly ever is.
But we won't have to let that worry us.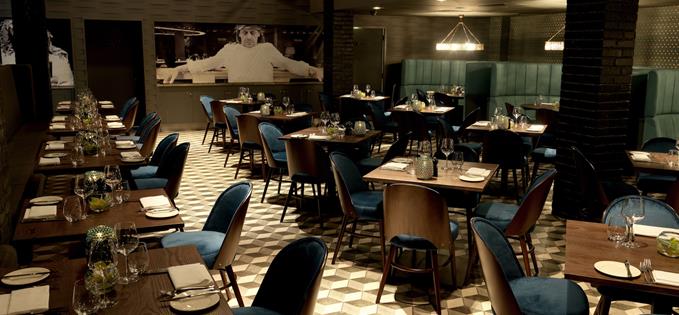 The new restaurant. But that picture of Marco has gone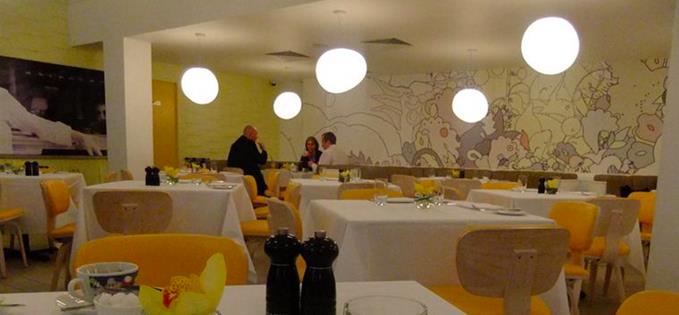 The old restaurant
"The Liverpool restaurant scene has experienced huge growth since we opened five years ago," Marco says here.
"At the time I was really attracted to the location within the business district and being a part of its future evolution. When we opened we were one of only a few restaurants in the area and today we are delighted to see how it has developed. Our location on Chapel Street as well as the surrounding areas of Castle Street and Water Street have become a real hub for the Liverpool bar and restaurant scene."
Last Thursday, the Indigo held a press bash to showcase all that's new and it would have been rude not to.
New icons of a younger, more carefree looking Marco have gone up on the walls, betraying the grown up look. The rest takes its cue from the city's cotton rich past when Liverpool was the spool of life.
"Inspired by the local neighbourhood story - once the thriving epicentre of the city's cotton trade - and Liverpool's rich music legacy, the new look MPW Liverpool is urban in design, mixing industrial fixtures and fittings of warm coppers and weathered woods, with stately brown leather chairs, exposed brick walls and muddied hues, not to mention quirky coloured cotton spools, record players and music iconography."
But aside from the decor, what's changed?
Sharing plates, classic sandwiches and hearty salads for those who can hurry lunch; afternoon teas (including new high teas especially designed for gentlemen and children) lead the way.
Nevertheless, those craving flesh won't be disappointed. Steak remains very much at the heart of the revitalised menu, all sourced from Edinburgh Royal Warrant appointed butcher Campbell Brothers.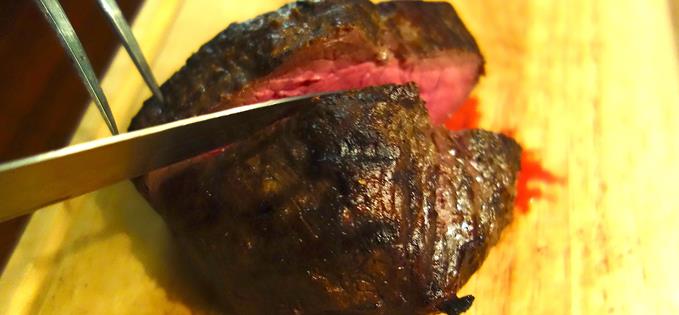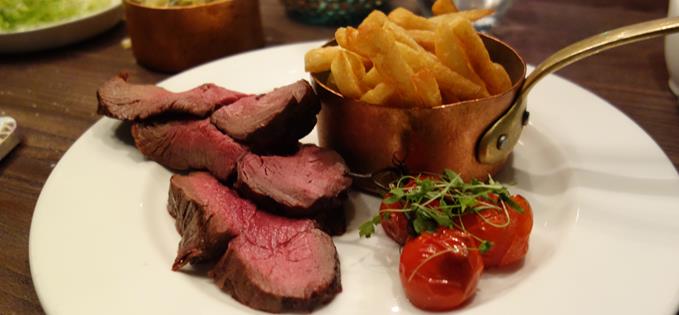 Chateaubriand a deux
Alongside classic cuts including fillet, rib-eye and chateaubriand, comes Côte de Boeuf from the estates of the Duke of Buccleuch is a brand new sharing option.
Confidential has had a lot of iffy steaks in the last 12 months, the last one, memorable for its sheer awfulness in July, not a million miles from where we were currently seated, in another relaunched business District venue. A story for another day.
Tonight's delightful pink chateaubriand feast for a pair (£56), was a million miles away from that calamity. It came to the table as well rested as Rolf Harris's Equity card. The sharpest of carving knives made light work of a seared, rich caramelised crust. Beneath, thick slice after thick slice of sweet, succulent oven finished beef, a lovely open grain, textbook medium rare.
The bang on Bearnaise and fat glug of robust Argentinian malbec caused it to sing. This MPW menu is all about British classics, so make a point of ordering the excellent side of creamed savoy cabbage and bacon.
Friendly, knowledgeable waiting staff made an increasingly tough game look so very easy. Happily, there is nothing tough about the beef.
*Marco Pierre White Steakhouse Bar & Grill, Indigo Hotel, Chapel Street, L3: 0151 559 0555.
**Please note: All scored Confidential reviews are paid for by the publishers, never a PR company or the restaurant and critics dine unannounced. This was a hosted freebie, so no score. Our own pictures will have to do the talking.